Relationships Issues, Depression, Affairs??
Whatever you are dealing with.. lets get you out .. Now.
Choose Your Therapist
Talking Helps. You Know That.
Of course you know.
When you're in trouble, talking helps.
Venting helps.
Talk to a Counsellor
Why should you talk to a professional?
Experience
Let's Face it.
A professional counsellor has come across a number of cases.
S/he has helped many others get over situations, which may be pretty similar to yours.
S/he has sure picked up a lot of lessons.
Its these gems that you stand to gain from.
Professionaly Trained
Contrary to what many believe, professional counseling requires – well – professional training.
The counsellors invest countless hours in honing thier skills in identifying signs of various issues.
On the bedrock of scientific studies, thorough training and accurate assessments, a qualified psychologist gives you perfect advice.
Scientific Assessments
Again, If you thought that a professional counsellor/ therapist would offer you advice just off the cuff,  You would be dead wrong.
W. R. O. N. G.
A professionaly trained and qualified therapist would conduct an assesment using a plethora of tools.  Sometimes, you would be asked to fill out a simple questionairre.
The therapist would then carry out a detailed analysis of your responses for an accurate diagnosis.
Anonymity
We come across situations, that we want to keep private.
We want to talk, But Can't.
We don't want to risk our friendship, relationship, social reputation.
Open up to a therapist. You can rest assured of your complete privacy.
Your identity is as hidden as you want it to.
Glad you asked.
Experience and Training.  We have the well qualified, trained and legally licensed therapists/ psychologists.
A Close-knit team. We are highly selective on who is in our team.  We do not have a hundred listeners with us. Just the very few chosen ones.
Passion for Service.  One of many qualities we look for in our psychologists – passion for service.  And we ensure we get that from our therapists.
The Pioneers of Online Therapy in India  We derive our experience from the first truly online counselling portal of India – HopeNetwork.in.
We are the same team that has pioneered the online counseling in India.
Relationships
Get your grips with Long distance, Live-in, Single, Married, Dating, Affairs
Depression
Get expert help on how to deal with depression. We will guide you with proven techniques and procedures to get you back to your chirpy self.
Anxiety
Beating the anxiety with us by the side will be much easier. We will hold your hand and fight the monster alongwith you.
Lifestyle Management
Psychological management of chronic illnesses and lifestyle changes
Grief and Loss
Losing someone close to death is devastating. Did you know that the researches that have gone into the process of dealing with grief? Learn to heal and process deep losses.
Growth and Enhancement
Training  for personality development and an enriching life
Remember - we are going to be with you.
There are no 'tips n tricks' here.
We are not just 'listeners'.
We are not part-timers.
We are in for the long haul.  For as long as you need us.
Confidentiality
We understand the value of privacy. We don't ask for your address, even when you are checking out.
We use strong encryption schemes to ensure your information stays secure.
Scientific
Our counsellors follow the scientific methods which are clinically proven. Your sessions would also involve scientific evaluations. In short, the sessions with our therapists are based on objective assessments.
Unbiased
We are not biased towards any aspect. Yes it is a hard thing to do. But we do it.
You don't have to worry about what your therapist would think about you.
Objective assessment and counseling. Thats what we do.
Comfort
You don't need to commute through the busy traffic and spend more than session fee on conveyance. And then the hassles.
You can get your sessions over any of communication media from the comfort of your own couch or from a serene hill top, river front, garden or sea-side.
You chose a site. Your therapist is there!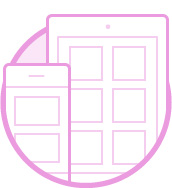 Professionally Trained
The therapists that work with us, are professionally trained. They are properly licensed and registered to counsel as per the laws of India.
We also involve qualified counsellors from overseas to conduct workshops and counseling sessions.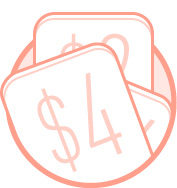 Reasonable Fee
We keep our session fees reasonable.
Our fee is actually comparable to a pizza outing.
You can't beat that value for money.
Get Started Today
Choose Your Counsellor Now